Hawaii Convention Center, Honolulu, Hawaii | Saturday, September 17, 2016
Doors Open: 3:00 p.m.
Ceremony Begins: 4:00 p.m.
Join fellow new CPCU© designees this year in Honolulu, HI to celebrate your achievement in a beautiful destination!
2016 Opening Session Keynote and Conferment Speaker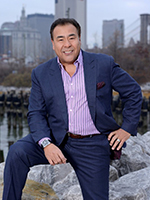 John Quiñones
John Quiñones is co-anchor of the ABC newsmagazine program Primetime, as well as the anchor of the Primetime series What Would You Do?, one of the highest-rated newsmagazine franchises of recent years. He also recently authored a book entitled What Would You Do? Words of Wisdom About Doing the Right Thing.
A seven-time Emmy winner, Quiñones has won numerous accolades for his work in journalism over the years. Among his many prestigious awards are the First Prize in International Reporting and Robert F. Kennedy Prize for his work on Modern Slavery – Children Sugar Cane Cutters in the Dominican Republic.
Share Your Story!
While celebrating your prestigious accomplishment you may also have an opportunity to share your personal CPCU story.
Think about your journey to earn the CPCU designation and consider the following questions:
What did you discover about yourself?
What inspired you to begin?
What motivated you to continue?
Who helped you along the way?
The Institutes will select two CPCUs from the class of 2016 to share their stories at this year's Opening Session Keynote and Conferment Ceremony.
Submit
Please email your story with "Share Your Story" in the subject line to PublicRelations@TheInstitutes.org by August 1. Be sure to include your name, address, phone number and email address with your submission.
Register
To register for this year's conferment and CPCU Society Annual Meeting,visit our website or contact MemberResources@TheInstitutes.org or (800) 932-2728.
Connect with Fellow New Deisgnees

Be part of The Institutes Community

@CPCUSociety | #CPCU16 | #CPCUChampion

CPCU Society